NGO Proposes Using Human Rights Impact Assessment to Globally Govern Business
ECONOMICS, CORPORATE CITIZENSHIP, HUMAN RIGHTS
Tuesday, March 31, 2009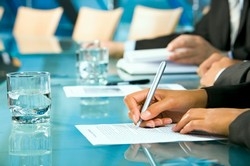 In February 2009, Aim for Human Rights, an independent Dutch human rights NGO, published a "Guide to Corporate Human Rights Impact Assessment Tools." The guide encourages corporations to conduct internal human rights impact assessments in order to ensure that their operations do not violate human rights. In the NGO's opinion, businesses should implement human rights impact assessments to make up for the lack of international legislation governing their human rights obligations.

Disappointed by the amount of time that national governments and transnational businesses are taking to consider and address relevant and practical human rights standards, NGOs have developed and are promoting a system of human rights impact assessments (HRIAs) that can be implemented on a piecemeal basis within targeted industry sectors or companies. Because they require company officials to "identify, understand and manage corporate impacts in the field of human rights," HRIAs are often compared to the environmental impact assessments (EIAs) and social impact assessments (SIAs) performed by many companies. However, due to the fact that HRIAs deal with many "emerging" social, cultural and economic rights that have not yet been recognized by the international community, HRIAs are much less developed in the law than are EIAs or SIAs.

Because business operations can arguably impact all sorts of "emerging" human rights, such as the rights to health, water, energy, and food, NGOs view HRIAs as a vehicle for gaining a critical voice in the boardrooms of innumerable transnational corporations. By engaging in direct grassroots lobbying for HRIAs at the corporate level, international NGOs side-step the efforts of sovereign national governments to develop concrete and reasonable standards for protecting human rights in the context of business operations.

As justification for the HRIA regime, the guide cites various international human rights documents, including the Universal Declaration of Human Rights, the International Covenant on Civil and Political Rights, the International Covenant on Economic, Social and Cultural Rights, the UN Global Compact, the OECD Guidelines for Multinational Enterprises, and the draft UN Norms on the Responsibilities of Transnational Corporations and Business Enterprises with Regard to Human Rights.

Though the guide acknowledges the efforts of many companies to guard against human rights violations, it concludes that these voluntary efforts are inadequate in their scope. Realizing that the adoption of international human rights norms for transnational businesses could take a decade or longer, the guide predicts that "HRIAs are to become the leading tool for companies that acknowledge their role and responsibility in human rights issues."

The guide provides a summary of the five primary HRIA tools that have emerged over the past ten years. These include the Community HRIA Guide for Foreign Investment Projects; the Guide for Conflict Sensitive Business Practice: Guidance for Extractive Industries; the draft Guide to Human Rights Impact Assessment and Management; the Human Rights Compliance Assessment; and Human Rights Risk Tools. It then provides a matrix for businesses to use in order to help them select the tool that is best suited for their needs.

In providing such extensive analysis and direction for companies, Aim for Human Rights is working to establish HRIAs as a key vehicle for promoting the human rights global governance of business enterprises.
Jim Kelly is the President of Solidarity Center for Law and Justice, P.C., a public interest civil and human rights law firm based in Atlanta, Georgia. The opinions expressed herein are his own.