Vatican Joins Transnational Elites in Devising New Forms of Capitalism
ECONOMICS, CORPORATE CITIZENSHIP, FINANCE & TRADE, HUMAN RIGHTS
Wednesday, June 30, 2010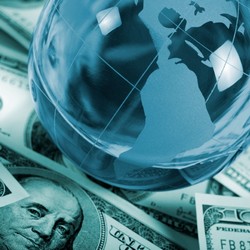 In response to the present global economic crisis, Pope Benedict XVI and some transnational elites have announced proposed reforms to market capitalism that are designed to more directly respond to the economic and social needs of individuals and society. In most cases, these new capitalist models are in their embryonic stages, lacking specificity and objectivity. Ultimately, these variations on capitalism should be rejected in favor of a constructive capitalism that is rooted in the further democratic development of market capitalism at the national level, with a focus on the consideration and lawful adoption of appropriate human rights legislation and corresponding practices.
In his 1970 article titled "The Social Responsibility of Business is to Increase its Profits," the renowned economist Milton Friedman considered the social responsibilities of business in a free-enterprise system. In pertinent part, he explained:
In a free-enterprise, private-property sys¬tem, a corporate executive is an employee of the owners of the business. He has direct re¬sponsibility to his employers. That responsi¬bility is to conduct the business in accordance with their desires, which generally will be to make as much money as possible while con¬forming to the basic rules of the society, both those embodied in law and those embodied in ethical custom. . . .

The difficulty of exercising "social responsibility" illustrates, of course, the great virtue of private competitive enterprise- it forces people to be responsible for their own actions and makes it difficult for them to "exploit" other people for either selfish or unselfish purposes. They can do good- but only at their own expense. . . .
In most of these cases [of corporate social responsibility], what is in effect involved is some stockholders trying to get other stockholders (or customers or employees) to contribute against their will to "social" causes favored by the activists.

To many transnational elites, the 40-year adherence by most business leaders to Friedman's view on corporate social responsibility is largely to blame for the present global economic crisis; the wealth disparities that exist among nations; and the persistent and pervasive poverty in which so many individuals around the world live. To the contrary, as the economist William Easterly explains in "Old-Fashioned Capitalism is Moral Enough," a chapter in Creative Capitalism, a book edited by Michael Kinsley: "A more reliable path to success against poverty is simply to take advantage of all the power of conventional capitalism- a power that has been abundantly demonstrated by the steady fall of global poverty over the decades." Easterly goes on to conclude that:
The twentieth-century economists who got it right in the long run were Joseph Schumpeter and Friedrich Hayek, who understood the gales of creative destruction and the chaos and unpredictability of free individuals interacting, yet realized that that very chaotic freedom was the nursery of material abundance unlike anything the world had ever seen.
However, those nations that used the tax revenues generated by businesses over the past four decades to fund their unsuccessful and deficit-inducing attempts to create the perfect society conveniently ignore the beneficial impact of market capitalism. Now that government coffers are empty and the social problems remain, transnational elites are extolling the virtues of the following alternatives to market capitalism:
1. Moral capitalism. Steve Young, the author of Moral Capitalism: Reconciling Private Interest with the Public Good, is the Global Executive Director of the Caux Round Table ("CRT"). The CRT's 2009 Principles for Responsible Business (updated in 2010) comprise seven principles and more detailed Stakeholder Management Guidelines covering each of the key stakeholder dimensions of ethical business practices: customers, employees, shareholders, suppliers, competitors, and communities.
2. Co-op capitalism. Noreena Hertz, Professor of Globalisation, Sustainability and Finance at the Duisenberg School of Finance, promotes the concept of "co-op capitalism," which, according to a 2009 FastCompany.com article, "calls for businesses, governments, NGOs, and the public to experiment together to design new, more-adaptive business models and financial structures that take both profit and larger social goals into account."
3. Creative capitalism. As Bill Gates, the former Chairman of Microsoft Corporation, explained in a January 2008 speech delivered at the World Economic Forum in Davos, Switzerland, "creative capitalism" is "an approach where governments, businesses, and nonprofits work together to stretch the reach of market forces so that more people can make a profit, or gain recognition, doing work that eases the world's inequities."
4. Connected capitalism. In a March 2009 speech delivered at a program sponsored by the Council on Foreign Relations, Neville Isdell, then the Chairman of the Board of the Coca Cola Company, introduced "connected capitalism," as "a new model of how businesses must engage with society across four platforms: communities, institutions, social challenges and values." According to Isdell, connected capitalism requires business leaders to "connect your business to the communities that you serve;" "connect your business with civil society and governments to address relevant large-scale problems;" "connect your philanthropy, your sustainability agenda, with the core of your business;" and "connect your business with the values of your own employees."
5. Cohesive capitalism. As Ben J. Verwaayen, Chief Executive Officer of Alcatel-Lucent, France, explained in a panel discussion held on January 28, 2010 during the 2010 Annual Meeting of the World Economic Forum in Davos, Switzerland, and in an online posting the next day, "cohesive capitalism" is a capitalism that "has to show its contribution to strengthen the cohesion of society at large." Organizations must challenge individuals "to contribute to society in which they operate," what Verwaayen refers to as a "cohesive society."
6. Sustainable capitalism. In a June 24, 2010 opinion piece in The Wall Street Journal, former U.S. Vice-President Al Gore and David Blood reminded readers that "before the crises and since, we (and others) have called for a more long-term and responsible form of capitalism-what we call 'sustainable capitalism.'" According to the pair, sustainable capitalism "explicitly integrates environmental, social and governance (ESG) factors into strategy, the measurement of outputs, and the assessment of both risks and opportunities." While Gore and Blood opined that "the rising inequality in our society is clearly unacceptable," they "do not support government-mandated compensation caps or other prescribed compensation policies." However, "if the business and investment communities do not act, governments may." (emphasis added).
7. Social capitalism. For Kevin Rudd, Prime Minister of Australia from December 2007 until June 24, 2010, government action is at the center of what he referred to as "social capitalism" in an article he authored for the February 2009 issue of The Monthly. For Rudd, whether the new regime is called "social capitalism," or "social-democratic capitalism," or "social democracy," "the concept is clear: a system of open markets, unambiguously regulated by an activist state, and one in which the state intervenes to reduce the greater inequalities that competitive markets will inevitably generate."
8. Humane capitalism. As Pope Benedict XVI explained in paragraph 46 of his third encyclical, Caritas in Veritate ("Charity in Truth"), "the traditional valid distinction between profit-based companies and non-profit organizations can no longer do full justice to reality, or offer practical direction for the future." According to the Holy Father:
In recent decades a broad intermediate area has emerged between the two types of enterprise. It is made up of traditional companies which nonetheless subscribe to social aid agreements in support of underdeveloped countries, charitable foundations associated with individual companies, groups of companies oriented towards social welfare, and the diversified world of the so-called "civil economy" and the "economy of communion." This is not merely a matter of a "third sector," but of a broad new composite reality embracing the private and public spheres, one which does not exclude profit, but instead considers it a means for achieving human and social ends. Whether such companies distribute dividends or not, whether their juridical structure corresponds to one or other of the established forms, becomes secondary in relation to their willingness to view profit as a means of achieving the goal of a more humane market and society. It is to be hoped that these new kinds of enterprise will succeed in finding a suitable juridical and fiscal structure in every country.
At face value, Pope Benedict XVI's vision for the pursuit of humane capitalism at the national level, with respect for the rule of law and the subsidiarity principle, is a positive and hopeful one. However, disappointingly, an address delivered on June 8, 2010 at the 14th regular session of the Human Rights Council by Archbishop Tomasi, the Holy See's permanent observer at the United Nations offices in Geneva, evidences a complete disregard for the spirit and practical application of Pope Benedict XVI's call for humane capitalism.
In his address, Archbishop Tomasi explained in detail the need and legal basis "for effective action in order to guarantee Universal Access to medicines and diagnostic tools for all persons." Invoking a completely aspirational and ambiguous "right to health and medical care" extracted from the cursory language of international human rights treaties that have been broadly interpreted in general comments drafted by a small group of UN experts, Archbishop Tomasi discards any semblance of sensitivity to the rule of law and subsidiarity principle so vital to the Holy Father's vision for humane capitalism.
In this manner, corporations are exposed to great uncertainties regarding the future of market capitalism. In theory, most of the above-discussed proposed reforms to market capitalism have some merit. However, the devil is in the details. It will be up to corporate leaders to separate well-intentioned capitalist theories that can form the basis for helpful discussions regarding the social role of corporations in the age of globalization from unrealistic and harmful prescriptions for expensive and ineffective corporate social responsibility mandates.
Ultimately, the evolution of capitalism should be rooted in the democratic process and rule of law at the national level, specifically in the context of the organic development of human rights. This calls for what this author refers to as "constructive capitalism." Constructive capitalism is capitalism that, in addition to focusing on increasing shareholder value, promotes improvement and development, both internally within businesses and externally within society. The seven phases of constructive capitalism include:
• Attitude. Corporate leaders must be willing to operate their businesses in a manner that satisfies not only minimum legal requirements; but, also, established basic human rights within their reasonable sphere of influence.
• Awareness. Corporate leaders must secure a basic understanding of those human rights.
• Assessments. Corporate leaders must conduct human rights impact assessments to gauge how their business practices are impacting established basic human rights.
• Acknowledgement. Corporate leaders must acknowledge their shortcomings in regards to the protection and promotion of those human rights for which they are legally and ethically responsible.
• Alliances. Corporate leaders need to locate and cooperate with those business and civil society allies who will facilitate the realization of the human rights for which they are collectively interested and/or responsible.
• Adjustments. Corporate leaders must make those adjustments to their business practices that will facilitate the realization of the established basic human rights for which they are legally and ethically responsible.
• Advocacy. Corporate leaders need to be prepared to advocate for the advancement of human rights and to resist efforts by others to expand their human rights responsibilitites beyond that for which they can reasonably be held accountable.
Jim Kelly is the President of Solidarity Center for Law and Justice, P.C., a public interest civil and human rights law firm based in Atlanta, Georgia. The opinions expressed herein are his own.