UN Report Recommends Human Rights Global Governance of Trade Negotiations
ECONOMICS, FINANCE & TRADE, HUMAN RIGHTS
Wednesday, June 17, 2009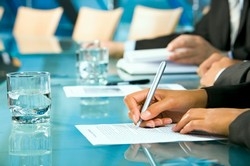 Each nation is free to negotiate with another nation regarding the manner in which trade will be conducted between their countries. As part of a free trade negotiation, officials from each country may consider how the trade agreement provisions might impact human rights. The question is: should United Nations officials and international non-governmental organizations (NGOs) and foundations be permitted to undermine national sovereignty by funding and training local civil society organizations to demand that ambiguous or fiscally unattainable economic rights, such as the right to health, be addressed in trade agreements?

On June 2nd, Mr. Anand Grover, the UN Special Rapporteur on the right to health, presented his first thematic report to the 11th Session of the UN Human Rights Council. The report, which examines how trade agreements can negate the flexibility of developing countries to secure relief from intellectual property (IP) laws, opens the door to the human rights global governance of bilateral and multilateral trade negotiations.

The Special Rapporteur's concern stems from the fact that, in trade negotiations with developed countries, developing countries may feel compelled to waive certain protections afforded to them under the World Trade Organization's Agreement on Trade-Related Aspects of Intellectual Property Rights (TRIPS). TRIPS is a binding agreement that establishes minimum international standards for protecting IP rights and contains rules for their enforcement. Because developing countries typically have weaker legal and technological infrastructures than developed countries, TRIPS incorporates several flexibilities to ensure that specific exceptions to the IP protections advance the "social and development" needs of individual States, specifically in regards to public health and access to medicines. To avoid having developing countries "trade away" their TRIPS flexibilities, Mr. Grover concludes that all free trade agreements (FTAs) contracted between developed and developing countries need to be assessed for potential violations of the right to health through an "open and transparent" negotiation process.

The Special Rapporteur's call for the imposition of human rights impact assessments in the context of bilateral and multilateral trade negotiations raises two significant concerns. First, it is likely that the human rights assessment would be expanded to include the entire range of economic and social rights contained within the International Covenant on Economic, Social and Cultural Rights. Second, it is likely that officials from the UN and international NGOs and foundations would unduly interfere with domestic democratic processes by becoming involved in lobbying at the local, state, or national level for the inclusion in trade agreements of a host of economic rights.

In light of the above concerns, one can envision the day when, as part of a bilateral trade negotiation with a developing country, U.S. officials would be required to obligate domestic housing companies to provide free or affordable housing in urban areas; transportation companies to build highways serving rural areas; pharmaceutical companies to provide free access to medicines and medical research; and text book companies to provide free textbooks to schools. While commendable, such trade agreement provisions should be included as a result of organic domestic democratic discourse, rather than the imposition of emerging human rights norms by an elite cadre of unaccountable UN officials and international NGOs and foundations.
Jim Kelly is the President of Solidarity Center for Law and Justice, P.C., a public interest civil and human rights law firm based in Atlanta, Georgia. The opinions expressed herein are his own.