G-20 and IMF Officials Institutionalize Economic Global Governance
Wednesday, April 28, 2010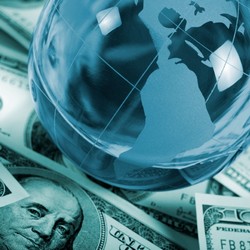 In particular, we are floating the idea of a new multilateral surveillance procedure. . . . I believe the world is ready for a shift to this more "systemic" vision of IMF surveillance. A clear indication is the G-20's launch of the Mutual Assessment Process. The so-called MAP aims to reduce risks to the system by making the world's largest economies accountable-to each other-for ensuring the global consistency of their economic policies. . . . Of course, there is a much broader range of international policy challenges than those currently being considered by the MAP. And an enhanced multilateral approach, with increased accountability between countries, is essential for finding lasting solutions. I see a role for the IMF to help address these kinds of multilateral problems.
~ From an address by Dominique Strauss-Kahn, Managing Director, International Monetary Fund, at the Bretton Woods Committee Annual Meeting, Washington D.C., February 26, 2010.
The Group of Twenty ("G-20") nations, the new Financial Stability Board ("FSB"), and the International Monetary Fund ("IMF") are progressing on two fronts: the monitoring and revision of national and regional economic plans to facilitate global economic governance and the pursuit of a financial industry regulatory reform agenda. The recent remarks of IMF Managing Director Strauss-Kahn indicate that these two areas may only be the beginning and that efforts will be made to globally govern other economic and industry-specific areas that, in the opinion of international economic and human rights experts, pose risks to global economic stability. Thus, corporate executives, employees, shareholders, and other stakeholders in industries such as energy, pharmaceutical, and food whose products (or lack thereof) pose "risks" that conceivably contribute to global poverty should be prepared for a new global level of monitoring, intervention, and regulation by the G-20, IMF, World Bank, and other international organizations.
In a previous article, this author explained that, in a November 2009 communiqué, titled "A Framework for Strong, Sustainable and Balanced Growth: Developing the 'Mutual Assessment Process," the G-20 announced the mutual assessment process ("MAP"), pursuant to which G-20 members would present national and regional economic plans by the end of January 2010 for review by the FSB and IMF so that alternative policy options could be developed that would enable the global management of national and regional economies.
During the past six months, with support from the IMF and World Bank, the financial ministers and central bank governors of the G-20 nations (the "G-20 Deputies") have engaged in the MAP by sharing their national and regional policy frameworks, programs, and projections; assessing their collective consistency with the G-20 objectives; and producing a forward-looking assessment of global economic prospects. At their April 2010 meeting in Washington, D.C., the G-20 Deputies agreed on principles to guide the FSB and the IMF in their development of alternative economic policy scenarios so that an initial set of globally-coordinated economic policy options can be considered by the G-20 leaders at their June 2010 summit.
Meanwhile, on the financial industry regulatory reform front, in a Declaration adopted in April 2009 and titled "Strengthening the Financial System," the G-20 instructed the FSB to "identify problems in the financial system and oversee action to address them." In a previous article, this author explored the national sovereignty and global governance implications of this development. True to form, an internal memorandum prepared by the IMF for the G-20 Deputies prior to their recent April 2010 meeting raised the possibility of two globally-coordinated taxes on banks. The first tax, a Financial Activities Tax ("FAT"), would be levied against financial institution balance sheets, profits and compensation and paid into a nation's treasury to help finance the broader costs of a financial crisis. A second tax, a Financial Stability Contribution ("FSC"), would be specifically designated to pay for the costs of winding down troubled financial institutions, ensuring that taxpayers would not have to pay trillions of dollars to keep banks in business. Initially, the FSC would be a flat fee, but, according to the IMF report, it could be adjusted periodically to reflect the "riskiness" of an institution and its "contribution to systemic risk."
Although key G-20 Deputies, including those from Canada, Brazil, India, China, and Russia, rejected the idea of the two taxes (which were supported by France and the U.K.), according to a communiqué issued during the meeting, the G-20 Deputies were in agreement as to the need for "internationally agreed to rules to improve both the quantity and quality of bank capital and to discourage excessive leverage."
Limited to providing for risks associated with the activities of large banks, the financial industry regulatory reform work and proposals of the G-20, FSB, and IMF create significant concerns regarding national sovereignty and global governance. However, there are even larger implications associated with the proposal of the IMF Managing Director that this same global monitoring, intervention, and regulatory regime be applied to other industries that pose risks to global economic stability. In the words of Mr. Strauss-Kahn as expressed in his February 2010 remarks:
Again, I believe we could do even more. For example, we should consider whether to expand our role as a provider of insurance for low-income countries against global volatility and other shocks-including from the effects of climate change. Another challenge is how best to support countries facing fragilities and security issues.
Thus, the IMF sees itself as the logical candidate for monitoring "fragilities and security issues," that dictate the intervention of the IMF and other international organizations and instituting measures, including global taxation, to prevent further "global volatility and other shocks." In a previous article, this author has explained the growing "human security" movement that is leading to calls for global taxation and governance. If the G-20, IMF, the World Bank, the United Nations, and other international organizations choose to take this path, then one can imagine the following scenarios:
· The G-20 and IMF will require energy companies to conduct human rights impact assessments measuring the degree to which their products and policies prevent equal access for all to reliable and affordable energy or pose environmental risks (i.e., climate change), the estimated and potential losses from which must be funded by an Energy Activities Tax ("EAT") on energy company profits;

· The G-20 and IMF will require pharmaceutical companies to submit their product research and development plans to the IMF so that they can be reviewed to determine whether proper priority is being placed on the development of affordable (though unprofitable) medicines that are needed to combat disease in developing countries, with a Pharmaceutical Activities Tax ("PAT") being assessed on company profits to create a pool of funds which can be used to provide affordable health care to those who cannot access the necessary medicines.

· The G-20 and IMF will require military defense contractors to provide details regarding their weapons research and development plans to determine the potential risks associated with the use of such weapons in regional conflicts, with a Military Activities Tax ("MAT") being assessed on company profits to create a pool of funds to be used to compensate the victims of war and rebuild war-torn societies and infrastructures.
It is feasible that the G-20's enthusiasm for the global governance activities of the FSB, IMF, and World Bank could extend beyond financial industry regulatory reform to address all sorts of "risks" associated with global disparities relating to such ambiguous economic rights as the right to food, right to housing, right to a clean and safe environment, right to health, right to water, and right to energy. For this reason, these parties must limit themselves to the specific mandates that govern their activities, operate in a transparent manner, and be accountable to the citizens, both individual and corporate, of the nations who fund their activities.
Jim Kelly is the President of Solidarity Center for Law and Justice, P.C., a public interest civil and human rights law firm based in Atlanta, Georgia. The opinions expressed herein are his own.