Security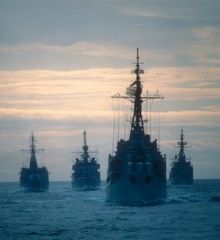 Until the end of the Cold War, the concept of security generally referred to nation-states maintaining their sovereignty and protecting their national interests from invasion or threats by foreign powers. For nearly half a century, from 1945 until the collapse of the Soviet Union in 1991, the nation of Lenin and Stalin and the United States struggled for global supremacy through military build-ups and a nuclear arms race. Following the collapse, the decades-long tensions between the United States and now Russia gradually receded, giving way to additional notions of security based upon internal struggles, including civil war, and external provocation by terrorist groups. From the Kosovo Conflict in the late 1990's to the terrorist attacks in the United States on September 11, 2001 and Spain on March 11, 2004, what it means to be "secure" is now more nebulous than ever.
That is not to say, however, that the traditional, sovereign-based notion of security has disappeared. In addition to civil wars and terrorist attacks, the world faces growing threats from unchecked nuclear proliferation and a military buildup in nation-states like North Korea and Iran. In the face of these threats, a comprehensive, international approach is being taken to global security that focuses more on the protection of the individual than the sovereignty of the state. This approach consists of cooperative measures taken by nations and international organizations such as the United Nations, including peacekeeping missions, international treaties and conventions, and collective military action, measures in which nation-states often cede control over their national defense and security policies to external actors. While these measures may provide security for the person, they also have serious implications for the sovereignty of the nation-state.
Click on the focus areas for more information.
DIPLOMACY

UN Launches Drone Operations in DRC
UN peacekeepers have announced that they will begin flying unmanned drones over the Democratic Republic of Congo ("DRC") this week in order to gather intelligence on militias operating in the eastern portion of the country.

---

EU Pushes for Revision of Data-Sharing Framework with U.S.
The European Commission has published documents calling for stricter standards in the EU-U.S. Safe Harbor Framework, which now allows national security requirements to "trump" EU data protection rules, as it argues that the U.S. may have "flouted" the framework through its government surveillance operations.

---

Global Islamist Organization Pushing Diplomatic Rupture Over Jerusalem
The leadership of the Organization of Islamic Cooperation ("OIC") is considering a proposal requiring its 57 member states to cut diplomatic ties with countries recognizing Jerusalem as Israel's capital, along with a coordinated lobbying strategy to get the UN Human Rights Council and UN Security Council to address Israel's human rights record in the Palestinian Territories and other international issues considered paramount for the global Muslim community.

---

UN Tribunal Orders Russia to Release Greenpeace Crew
Amid recent concerns over the powers transferred to international bodies under the UN Convention on the Law of the Sea, the UN Convention's International Tribunal has directed Russia, pending a 3.6 million euro bond from the Netherlands, to release protesters it seized off its coast in September.

---

Leadership Competition in Global Islamist Organization
Competition is especially stiff among candidates from Pakistan, Afghanistan, Malaysia, and Indonesia, all of whom are vying for Assistant Secretary positions in the Organization of Islamic Cooperation ("OIC"), the global organization whose charter declares fealty to sharia law.

HOMELAND SECURITY & TERRORISM

OIC Brand Rising with UN Officials Looking to Partner in Counter-Terrorism Strategies
Giving credence to the Organization of Islamic Cooperation's ("OIC") policy position that religious stereotyping incites religious terrorism, the UN Chief of the Counter-Terrorism Committee Executive Directorate ("CTCED") emphasized in a meeting with the OIC Ambassador to the UN that the global Islamic organization has a determinant role to play in UN implementation strategies for countering terrorism.

---

---

---

---