Human Rights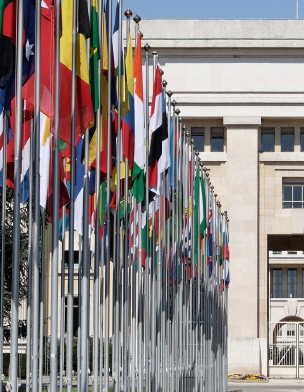 The United Nations has long been an advocate of human rights. In 1948, just three years after the UN Charter was signed, the Universal Declaration of Human Rights was adopted and remains the foundation of international human rights to this day. In recent years, the UN's human rights agenda has led to the development of the concept of human security to achieve "freedom from fear" and "freedom from want." The idea of human security, expanded by the Commission on Human Security , encompasses all human rights, including civil and political rights, which protect people, and economic, social and cultural rights, which empower people. The new framework centers directly and specifically on people to remedy states' failure to fulfill their security obligations. By enhancing human rights, human security seeks to protect people from a broad range of threats posed by individuals and communities. By strengthening human development, human security seeks to empower them to act on their own behalf.

Coupled with the growth of human security measures is the ever-expanding role of international court systems, particularly as it concerns human rights. The international community has long wrestled with the question of how to make international law enforceable. In an attempt to solve this problem, the UN and other international organizations (including the European Union) have created various international courts whereby they can hold human rights violators and other offenders of international agreements accountable for their actions.
These court systems, however, raise important questions regarding national sovereignty. Often, they display disturbing trends of judicial activism as they attempt to use their decisions to create or define rights or "laws" that have not yet been agreed upon by the international community. Further, many international organizations and non-governmental organizations (NGOs) are attempting to use international law and the court systems that enforce it to hold corporations and individuals accountable for violations, thereby circumventing the State governments to whom international law technically applies.
Additionally, domestic courts have increasingly turned to international law to aid in their decision-making. Indeed, the idea that international law should hold supremacy over national law is becoming more and more popular. These sorts of trends pose additional threats to national sovereignty, as they bypass normal democratic processes for deciding questions of law.
Click on the focus areas for more information.
LAW & JUSTICE

---

IACHR Expresses Concern over Deaths near U.S. Border
The Inter-American Commission on Human Rights ("IACHR") has called for an investigation into the recent death of a Mexican national pursued in San Diego by a U.S. border agent and is seeking permanent training programs on migrants' human rights by the U.S. Border Patrol.

---

HRW Calls for Creation of Right to Privacy in International Law
An article published by Human Rights Watch ("HRW") argues that President Obama did not go far enough in a recent speech to calm concerns about privacy by putting an end to bulk data collection and recognizing the rights of non-U.S. persons and calls for an internationally recognized right to electronic privacy.

---

AI Favors Adoption of ESC Rights in Ireland
Amnesty International has encouraged the Irish Government to adopt a set of provisions to include economic, social, and cultural ("ESC") rights in the country's constitution as recently recommended by an Irish Constitutional Convention, which called for these rights to be realized by the state.

---

Bolivian Court Rejects Views of UN Committees on Abortion Laws
C-FAM reports that the Constitutional Court of Bolivia has determined, contrary to pressure from UN human rights monitoring committees to strike down laws restricting abortion, that pre-natal life is protected in the Bolivian Constitution, though it did expand exceptions to the country's anti-abortion laws.

SOCIETY & CULTURE

Islamist Feuds in Libya Highlight Democracy Challenges
The complex democratization process in post-Qadaffi Libya is facing serious challenges from the feuds between sharia-supported Islamists of the powerful Fatwa Council controlled by the Libyan Grand Mufti versus the National Transitional Council pushing for a political order recognizing Libya's religious and social pluralism.

---

UNESCO Promotes Right to "Social Justice"
On the UN's "World Day of Social Justice," the UN Educational, Scientific, and Cultural Organization ("UNESCO") called for "the reduction of the privileges of global economic and financial players" to ensure the recognition of governments' responsibilities, including through "accountability mechanisms," to provide for the economic well-being of their citizens.

---

---

Pillay: Christians to Blame for Recent Violence in CAR
UPI reports that the UN High Commissioner for Human Rights Navi Pillay has blamed a Christian militia for the "ongoing human rights violations" in the Central African Republic ("CAR"), including the targeted killings of Sunni Muslims.

---

State Authorities and Muslim Brotherhood Battle over Mosque Messages
The Egyptian state's Ministry of Religious Endowments has issued guidelines for unified sermons for the country's 150,000 mosques, aiming to silence the Muslim Brotherhood's ("MB") radical weekly prayer message, but human rights activists have criticized the authoritarianism of state tactics as well as MB radicalism.