Human Rights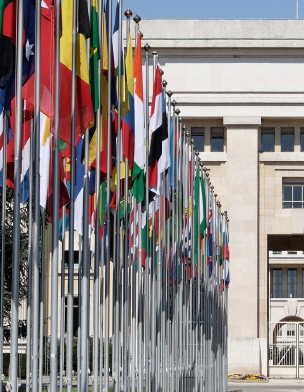 The United Nations has long been an advocate of human rights. In 1948, just three years after the UN Charter was signed, the Universal Declaration of Human Rights was adopted and remains the foundation of international human rights to this day. In recent years, the UN's human rights agenda has led to the development of the concept of human security to achieve "freedom from fear" and "freedom from want." The idea of human security, expanded by the Commission on Human Security , encompasses all human rights, including civil and political rights, which protect people, and economic, social and cultural rights, which empower people. The new framework centers directly and specifically on people to remedy states' failure to fulfill their security obligations. By enhancing human rights, human security seeks to protect people from a broad range of threats posed by individuals and communities. By strengthening human development, human security seeks to empower them to act on their own behalf.

Coupled with the growth of human security measures is the ever-expanding role of international court systems, particularly as it concerns human rights. The international community has long wrestled with the question of how to make international law enforceable. In an attempt to solve this problem, the UN and other international organizations (including the European Union) have created various international courts whereby they can hold human rights violators and other offenders of international agreements accountable for their actions.
These court systems, however, raise important questions regarding national sovereignty. Often, they display disturbing trends of judicial activism as they attempt to use their decisions to create or define rights or "laws" that have not yet been agreed upon by the international community. Further, many international organizations and non-governmental organizations (NGOs) are attempting to use international law and the court systems that enforce it to hold corporations and individuals accountable for violations, thereby circumventing the State governments to whom international law technically applies.
Additionally, domestic courts have increasingly turned to international law to aid in their decision-making. Indeed, the idea that international law should hold supremacy over national law is becoming more and more popular. These sorts of trends pose additional threats to national sovereignty, as they bypass normal democratic processes for deciding questions of law.
Click on the focus areas for more information.
LAW & JUSTICE

---

Pakistan Judiciary Rules Death Penalty Only Option for Blasphemy Cases
Signaling the strength of extremist Islam in state institutions and civil society, Pakistan's Federal Sharia Court recently ruled that the country's penal code be amended to eliminate any alternatives, such as life imprisonment, to the death penalty for individuals convicted of blasphemy under Pakistan's notorious Hodood Ordinances.

---

Bangladesh Elections Will Be a Barometer of Islamist Influence
According to well-known human rights group Human Rights Without Frontiers, the approaching general elections slated for January 2014 in Bangladesh are shaping up to be a measure of possible gains by conservative Islamists and nationalists led by the Bangladesh Nationalist Party ("BNP") and the court-outlawed fundamentalist party, Hefajat-e-Islam, both of whom oppose the call by the governing Awami Party ("AP") for state neutrality vis-a-vis all religions.

---

Tensions in Malaysia Related to Pressures to Privilege Sunni Islam
To try to curry favor with voters, Malaysia's ruling party, the United Malays National Organisation ("UMNO") is politicizing Islam - calling for a constitutional change to make Sunni Islam the country's official religion, appealing to anti-Shia sentiment amongst the country's Muslims, and pushing to ban Christian from using "Allah" as a translation for God.

---

HRW Criticizes U.S. for Sentencing Practices
Human Rights Watch ("HRW") has called for the U.S. Congress to eliminate "mandatory minimum" sentencing, which requires judges to impose a minimum sentence for certain crimes, and for U.S. prosecutors not to seek "greatly increased" sentences for defendants who refuse to plea bargain.

SOCIETY & CULTURE

UN Seeks Enforcement Mechanism for MDGs
A UN report seeks to tie the post-2015 UN Millennium Development Goals ("MDGs") to international human rights treaties, thereby introducing an enforcement mechanism for economic, social, and cultural rights.

---

UN Pressures States to Act on Economic Inequality in Cities
Executive Director of the UN Human Settlements Programme Joan Clos has called for a reduction in economic inequality in cities in preparation for a UN conference scheduled next year in Colombia that will place pressure on sovereign countries to promote equality and transfer property for the "common good [of] all citizens" in urban environments.

---

UN Pushes Sex Education, "Reproductive Health Services" in Africa
The UN has launched a new project called Young People Today that seeks global governance of health and education by having national officials in Eastern and Southern Africa commit to "comprehensive sexuality education" and access to "sexual and reproductive health services" for minors.

---

Anderson: Common Core Takes Aim at American Exceptionalism
Mary Jo Anderson writes that the UN, the U.S., private financial backers, and others are seeking worldwide implementation of the Common Core State Standards in order to realize the internationalist goal of indoctrinating children into a globalist religion and destroying notions of national exceptionalism.

---

Egypt's Muslim Sisterhood Expands Political Profile
The Egyptian Muslim Sisterhood, historically limited to social-work activities supporting the political agenda of the country's Muslim Brotherhood, continues to lead anti-government protests and street demonstrations in Egypt, signaling the decisive move into politics and beyond social-work activities by the women's Islamist organization.