Human Rights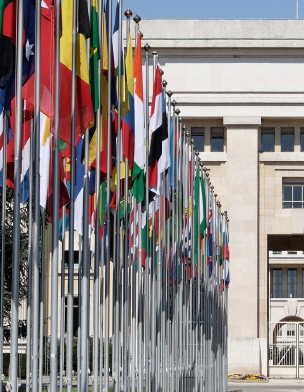 The United Nations has long been an advocate of human rights. In 1948, just three years after the UN Charter was signed, the Universal Declaration of Human Rights was adopted and remains the foundation of international human rights to this day. In recent years, the UN's human rights agenda has led to the development of the concept of human security to achieve "freedom from fear" and "freedom from want." The idea of human security, expanded by the Commission on Human Security , encompasses all human rights, including civil and political rights, which protect people, and economic, social and cultural rights, which empower people. The new framework centers directly and specifically on people to remedy states' failure to fulfill their security obligations. By enhancing human rights, human security seeks to protect people from a broad range of threats posed by individuals and communities. By strengthening human development, human security seeks to empower them to act on their own behalf.

Coupled with the growth of human security measures is the ever-expanding role of international court systems, particularly as it concerns human rights. The international community has long wrestled with the question of how to make international law enforceable. In an attempt to solve this problem, the UN and other international organizations (including the European Union) have created various international courts whereby they can hold human rights violators and other offenders of international agreements accountable for their actions.
These court systems, however, raise important questions regarding national sovereignty. Often, they display disturbing trends of judicial activism as they attempt to use their decisions to create or define rights or "laws" that have not yet been agreed upon by the international community. Further, many international organizations and non-governmental organizations (NGOs) are attempting to use international law and the court systems that enforce it to hold corporations and individuals accountable for violations, thereby circumventing the State governments to whom international law technically applies.
Additionally, domestic courts have increasingly turned to international law to aid in their decision-making. Indeed, the idea that international law should hold supremacy over national law is becoming more and more popular. These sorts of trends pose additional threats to national sovereignty, as they bypass normal democratic processes for deciding questions of law.
Click on the focus areas for more information.
LAW & JUSTICE

---

Switzerland Approves NCP Reorganization
The Swiss government has approved a reorganization of the country's National Contact Point ("NCP"), an entity charged with promoting implementation of the Organization for Economic Co-operation and Development ("OECD") Guidelines for Multinational Enterprises.

---

---

Experts Criticize UN Politicization of Human Rights
Jacob Mchangama and Aaron Rhodes explain how the UN's insistence on the indivisibility of civil and political rights, on the one hand, and economic, social and cultural rights, on the other, politicizes the UN human rights review process.

---

UN Experts Express Concern over Increased Government Scrutiny of Civil Society Organizations
As the U.S. Congress investigates the extraordinary questioning and document production requirements the IRS imposed on conservative social welfare groups seeking tax-exempt status, three UN experts issued a statement calling on the Russian government to halt the enforcement of a new law that permits rigorous inspections of civil society organizations engaged in political activities.

SOCIETY & CULTURE

---

UN Leaders Encourage Fight for "Reproductive Rights"
Past and present leaders of the UN Population Fund have criticized the difficulty the organization has had in the past twenty years promoting "reproductive rights," a term often used to refer to the right to abortion.

---

UN Conference Seeks Support of Businesses
The UN's recent System Private Sector Focal Points Meeting drew hundreds of UN and private sector leaders to Geneva to discuss how to persuade business leaders to support UN goals and programs.

---

HRW Selects Anti-Israel Activist as Award Finalist
The Washington Times reports that Human Rights Watch ("HRW") has chosen Mona Seif, an Egyptian activist noted for deeming Israel the "real terrorist," as a finalist for its human rights defender award.

---

Examiner: Pentagon Seeks Input from Anti-Christian Group
A Washington Examiner editorial asserts that the U.S. Department of Defense has endangered religious freedom by seeking advice on religious expression from an NGO leader who labels as "monsters" military service members who express their Christian beliefs to colleagues.