Human Rights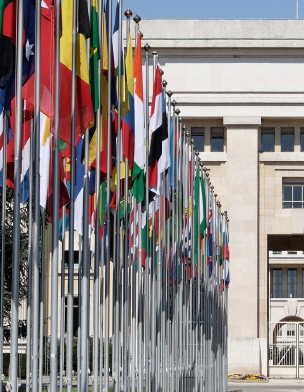 The United Nations has long been an advocate of human rights. In 1948, just three years after the UN Charter was signed, the Universal Declaration of Human Rights was adopted and remains the foundation of international human rights to this day. In recent years, the UN's human rights agenda has led to the development of the concept of human security to achieve "freedom from fear" and "freedom from want." The idea of human security, expanded by the Commission on Human Security , encompasses all human rights, including civil and political rights, which protect people, and economic, social and cultural rights, which empower people. The new framework centers directly and specifically on people to remedy states' failure to fulfill their security obligations. By enhancing human rights, human security seeks to protect people from a broad range of threats posed by individuals and communities. By strengthening human development, human security seeks to empower them to act on their own behalf.

Coupled with the growth of human security measures is the ever-expanding role of international court systems, particularly as it concerns human rights. The international community has long wrestled with the question of how to make international law enforceable. In an attempt to solve this problem, the UN and other international organizations (including the European Union) have created various international courts whereby they can hold human rights violators and other offenders of international agreements accountable for their actions.
These court systems, however, raise important questions regarding national sovereignty. Often, they display disturbing trends of judicial activism as they attempt to use their decisions to create or define rights or "laws" that have not yet been agreed upon by the international community. Further, many international organizations and non-governmental organizations (NGOs) are attempting to use international law and the court systems that enforce it to hold corporations and individuals accountable for violations, thereby circumventing the State governments to whom international law technically applies.
Additionally, domestic courts have increasingly turned to international law to aid in their decision-making. Indeed, the idea that international law should hold supremacy over national law is becoming more and more popular. These sorts of trends pose additional threats to national sovereignty, as they bypass normal democratic processes for deciding questions of law.
Click on the focus areas for more information.
LAW & JUSTICE

---

Islamist Battle Heats Up as Turkey Bans YouTube as Follow-Up to Twitter Ban
Media freedom suffered another blow yesterday when Turkey's Islamist government banned YouTube only a week after banning Twitter, moves further damaging Turkey's poor media rights record and reflecting the government's ongoing battle with media critics sympathetic to opposition Islamist Imam Fetullah Gulen.

---

NGOs Express Concern over Ireland's Low Tax Rate
Shane Darcy of the Irish Centre for Human Rights examines concerns from a group of nongovernmental organizations ("NGOs") that the low corporate tax rate in Ireland prevents the Irish Government from upholding its citizens' human rights.

---

UN Rapporteur Decries Military Spending
UN Special Rapporteur Alfred de Zayas has urged governments to decrease their military spending by an estimated ten percent and divert this funding to projects such as humanitarian efforts and climate change reduction.

---

UN Adopts Measure Bolstering Human Rights Treaty Reporting
The UN General Assembly has passed a resolution increasing the meeting time of the UN human rights treaty bodies, which monitor countries' compliance with UN treaty obligations, and providing for expanded involvement of the Office of the UN High Commission for Human Rights in promoting human rights compliance.

SOCIETY & CULTURE

UNESCO Urges School "Empathy" Assessments
The UN Educational, Scientific, and Cultural Organization ("UNESCO") has encouraged schools in Asia to implement a "Learning to Live Together" assessment of students' "empathy, tolerance, communication and concern for the environment."

---

---

---

---

Iranian Fatwa Opens Debates on Islamism and Reproduction
A fatwa by Iran's supreme religious leader, Ayatollah Ali Khamenei, permitting cutting-edge reproductive technologies, is generating an intense debate between Sunni and Shia Islamists over religion and reproduction that many experts say could transform the demography and cultural attitudes of Islamists around the world.