The Right to Health: Human Rights Instruments and UN Special Procedures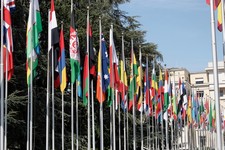 The global governance of health care has as its inspiration a variety of international declarations, covenants, and programs.

Article 25 of the Universal Declaration of Human Rights provides that everyone has the right to a standard of living adequate for the health and well-being of himself and his family, including food, clothing, housing, medical care, and necessary social services.

Article 12 of the International Covenant on Economic, Social and Cultural Rights (ICESCR) recognizes the right of everyone to the enjoyment of the highest attainable standard of physical and mental health. It calls for States to take steps to reduce infant mortality and ensure the healthy development of the child; to improve all aspects of environmental and industrial hygiene; to prevent, treat, and control epidemic, endemic, occupational, and other diseases; and to create conditions which would assure to all medical service and attention in the event of sickness.

The Committee on Economic, Social and Cultural Rights , the treaty committee responsible for interpreting the Covenant, has issued General Comment 14 on the Right to the Highest Attainable Standard of Health in order to further explain what is meant by the right to health, as well as to outline specific obligations of States Parties to the ICESCR and to provide recommendations for the implementation of Article 12.

The United Nations Human Rights Council (formerly, the Commission on Human Rights) has assumed responsibility for a Special Rapporteur on the right of everyone to the enjoyment of the highest attainable standard of physical and mental health . The Special Rapporteur gathers, requests, receives, and exchanges information on the right to health from all relevant sources; discusses possible areas of cooperation with all relevant actors, including governments, relevant UN bodies, specialized agencies and programs (in particular, the World Health Organization and the Joint United Nations Program on HIV/AIDS ), non-governmental organizations, and international financial institutions; reports on the status throughout the world of the right to health, including law policies, good practices, and obstacles; and makes recommendations on appropriate measures that promote and protect the right to health.

In the discharge of his mandate, the Special Rapporteur undertakes country and other visits ; transmits communications to States with regard to alleged violations of the right to health; and submits annual reports on the activities carried out under his mandate to the Human Rights Council and the General Assembly.