Peacekeeping in the UN System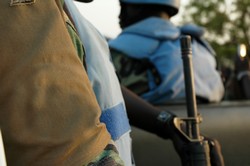 Peacekeeping is an evolving process aimed at creating conditions for peaceful co-existence among former warring factions. It emerged from the activities required by the United Nations under the direction of the UN Security Council. Peacekeepers monitor and observe peace processes in post-conflict areas and assist ex-combatants in implementing the peace agreements they may have signed. Such assistance comes in many forms, including confidence-building measures, power-sharing arrangements, electoral support, strengthening the rule of law, and economic and social development.
As early as 1948, three years after its founding, the UN deployed troops in the Middle East to supervise truces, an operation under the supervision of what became known as the United Nations Truce Supervision Organization (UNTSO). The UNTSO, which is still in place, was the embryonic program for today's peacekeeping operations. The United Nations Charter, under Chapter VII, gave the UN Security Council the power and responsibility to take collective action to maintain international peace and security. For this reason, the international community usually has looked to the Security Council to authorize and oversee peacekeeping operations. Though created in the incipient stages of the organization, the peacekeeping operation flourished only after the Cold War, once the Security Council gained more freedom of action as the five permanent members began working more cooperatively.
The military character of UN peacekeeping missions is often times downplayed, portrayed as a hybrid between military and non-military intervention. The UN Charter does not explicitly authorize such activities. In 1948, Secretary-General Hammarskjöld expressed his belief that the UN's powers emanated from both the peaceful resolution of conflicts found in chapter VI of the Charter and action with respect to threats to the peace addressed in chapter VII. The peacekeeping operations' rules and concepts were overhauled at a conference in 2000 resulting in the Brahimi Report, which led to changes on the rules of engagement of peacekeepers--when they can use force, how they ought to interact with civilians and so on.
The peacebuilding efforts and the Peacebuilding Commission were formally codified only with the passage of UNSC Resolution 1645 (2005), which was passed in reaction to the increased complexity that UN missions were facing, from monitoring elections to keeping supply lines open. Complex engagements, such as the genocidal conflict in Rwanda, had forced changes on the rules of engagement. Originally missions focused on self-defense of its members, but expanded to include defending the UN mandate, a move aimed at preventing situations like Rwanda. Peacebuilding was now a concept apart from peacekeeping.